Some good news (or at least not bad news): The U.S.-led airstrikes in Syria obviously haven't led to a terminal nuclear conflict; not yet, anyway. That said, this was another loathsome destructive exercise by three imperial powers intent on maintaining at least symbolic dominance over their erstwhile colonial possessions. We've heard all the flimsy justifications for this action – the need to enforce the prohibition on use of chemical weapons, the need to alleviate the suffering of innocents, etc. None of it holds any water.
While it's good that a class of weapons is at least nominally banned, it's hard to see a substantive difference between gassing people and blowing their legs off, or piercing their skulls with fragments of depleted uranium shell casings, or dropping white phosphorus on them, or enforcing a medieval siege that results in more than a million contracting cholera (i.e. biological warfare). And if Trump, May, and Macron are concerned with the suffering of innocents, they can start addressing it by not supporting Saudi war crimes in Yemen or Israeli executions of Palestinian protestors. Then there's the legal question. I can't speak for Britain or France, but Trump has no legal authorization to attack the government of Syria. It appears as though their argument on this issue is might makes right; that's transparently illegitimate.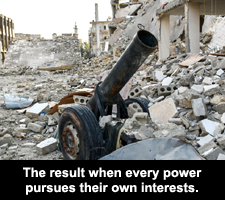 Restraining a Trump administration powered by John Bolton and Mike Pompeo is going to be difficult. It isn't made any easier by internal divisions evident on the left. Clearly we don't need to agree on everything to agree that American intervention in Syria is a bad idea and shouldn't be done. There's a natural tendency to turn conflicts of this type into a kind of zero-sum game between bad players and good players; this is not unique to the left, obviously. There are people on the left who support the rebellion in Syria and those who think it's populated entirely by terrorists. Likewise, I've heard leftists essentially align themselves with the Assad regime and others call for its overthrow.
There are bad players on all sides of this conflict, obviously, and every power is pursuing their own interests. I don't have to agree with Assad's rapacious military assaults to agree that we shouldn't attack his government, largely because American intervention has such a bloody history. (I would say it always fails, but that would entail the assumption that our military policies are intended to do our victims some good … which is never the case.) I've never been a fan of Vladimir Putin, but I understand Russia's decision to intervene in the wake of previous regime-change efforts on the part of the U.S., all of which have resulted in failed states, hundreds of thousands of dead, and worsening political turmoil. I haven't seen convincing evidence one way or the other with respect to who used chemical weapons two weeks ago, but the question is irrelevant – the solution to this conflict does not involve American military force. Period.
If the left (and center-left) can coalesce around the basic principle of non-intervention, grounded in solid legal, moral, and historical arguments, we will have a better chance at holding off the Bolton-Trump assault on the Middle East.
luv u,
jp