The thing about Trump is that he never knows when to shut the hell up. The events of the past ten days put this into stark relief. His post-Charlottesville comments are driven as much by his insistence on being right as by anything else. That said, the man knows how to court his core constituencies – namely, by abandoning any semblance of the traditional presidential role of being the nation's consoler-in-chief and weighing in on the side of white sheets and brown shirts. Classy. I guess that roughly comports with Bannon's avowed strategy of calling out Democrats on race issues, though he claims now to want to crush the "clowns" in the white nationalist movement. (I suspect he's attempting to blow smoke here.)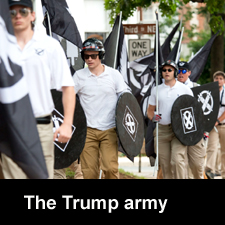 There is little doubt in my mind that Trump is a deep-dish racist fuck. His personal history alone is enough to convince any reasonable person, from his early days as a landlord to his vocal advancement of birtherism to his targeting of immigrants, Muslims, you name it. After the attacks in Barcelona, his first impulse was to tweet a reprise of his celebratory comments about General Pershing's participation in America's early 20th Century colonial pogrom in the Philippines – the story about killing 49 Muslim resistors with bullets dipped in pig's blood. What is more bigoted than that? His blood libel against Muslims in New Jersey re the days following 9/11? Perhaps.
Trump's next stop is Phoenix, AZ, where on Tuesday he will hold one of his regional Klan rallies, full of the kinds of crackpots that marched through the streets of Charlottesville with citronella torches and various tattoos. Too soon, you say? Not a bit of it. This tactic reminds me of what the NRA used to do (and may still do) in the wake of a mass shooting; namely, hold a massive pro-gun rally in or near the affected community. You can bet that Trump will have an incendiary tale to tell of how the Antifa counter-protesters were, in essence, outside agitators, at least as culpable as the neo-Nazis he tepidly disavows. I would still say the apple didn't fall very far from the Klansman Fred Trump tree.
Is anyone surprised by all this? Well … if so, they haven't been paying attention. Expect more, folks, and worse … much worse.
luv u,
jp