His tremendous majesty Trump the First made several speeches this week, generating the usual range of comments, lamentations, amens, and apologies. I will set aside my observations on how he handled all of this presidential business for the moment and focus instead on the most consequential remarks; namely the speech he delivered on the Afghanistan war, now in its sixteenth year.
My short take is that there isn't a lot new here. We knew that Trump had loosened the rules of engagement a bit, resulting in a greater number of civilian casualties than was typical under Obama. In Monday's address, Trump said that troop levels would be determined based on conditions, not deadlines – again, nothing new. Both Obama and Bush followed this standard in Afghanistan and Iraq at one point or another; that's why we were still in both countries when Trump started his presidency. He had some kind of stern words for Pakistan; same as his predecessors. (Obama as much as promised cross-border raids into Pakistan as a candidate in 2008, which he later undertook as president.)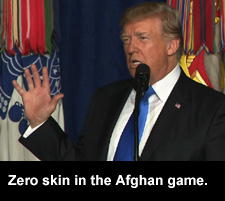 Probably the most dangerous element in this speech was Trump's comments on India. Bush made some effort to balance his administration's outsized relationship with Pakistan by working with India. The current president suggested greater Indian involvement in resolving the Afghan conflict, which would absolutely drive Pakistan's leaders mad. Their principal adversary active on two fronts? Not a good outcome from their point of view, and that would make another devastating conflict between India and Pakistan even more likely.
Not to bury the lead, but what the speech boils down to is that Trump is going to increase troop levels somewhat, pretty much along the lines of what Obama was doing, and he's not going to tell us about it. (News reports have the number at around 4,000 to start.) For those of you who were thinking Trump might actually end this stupid war, think again. There is just no political percentage in doing so. The burden of this war falls entirely on the tiny minority of Americans whose family members actually do the fighting and dying. There are no tax levies to support its costs. So our government has found the formula for perpetual war: remove the populace entirely from any experience of it. Trump will not upset that apple cart – not when to do so would make him look "weak".
This Afghan war will never end until we demand it. After sixteen years, it's way past time to make that demand.
luv u,
jp