With an environmental disaster underway in Houston and massive destruction in the Florida Keys, the Virgin Islands, and elsewhere around the Caribbean, it's fair to say that the 2017 hurricane season is off to an inauspicious start. We are completely unprepared for these climate change-fueled super storms, largely because we find ourselves unable to grapple with the fact that global warming is actually happening. Yes, I know – no storm can be directly attributed to climate change, but it does enhance the strength and volatility of the storms to a significant degree, and the effects are very much as predicted by climate scientists.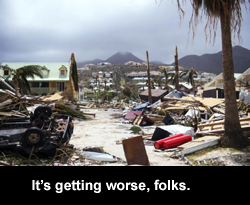 There are people in this country – coastal urban mayors and the like – who have to face facts on this issue, but pretty much everyone else is free to ignore the obvious: that we are now living in a far more dangerous and unstable environment, and it's only going to get worse. The longer we play this denial game and pretend it doesn't exist, the more profound the long term costs will be. Unfortunately, this is a difficult issue to get traction on in a country like the United States. You find yourself arguing for a major change in people's day-to-day lives, tremendous investments, and more, for positive effects that likely won't become evident for another generation or more. It's a crisis that breeds fatalism, and that plays right into the hands of the petrochemical-driven profit machine that's been stoking climate change for decades.
I think the only way we can succeed in convincing enough of our fellow Americans that radical change is needed is by decoupling the notion of a sustainable society from economic austerity. We have demonstrated this as a society – recall the period just prior to the financial crisis of 2008 (well, before the election of 2008, too). There was what seemed like a broad and growing consensus that we needed to do something about energy use, investing in renewables, greater efficiency, etc. The crash just washed that all away in a chorus of "drill, baby, drill!" When you have 750,000 people a month being tossed out of work, people will grasp at anything, and Obama did little to articulate a coherent vision of a more sustainable economy.
So here we are, being battered by ever larger and more menacing storms, and yet building more pipelines as far as the eye can see. We need to move the conversation back to where it was ten years ago (and further, really). That's the straw.
luv u,
jp