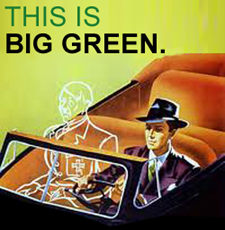 Okay, everybody – band meeting. Let's do roll call. Matt Perry? Present. Myself? Present. Marvin (my personal robot assistant)? Present, but lacking in agency. Mansized tuber? Absent. (He planted himself in the courtyard again, and frankly, it's just too cold today to have the meeting out there.)
Yeah, it's been a while since our last meeting. A few weeks, anyway. Like August 1987. We are a self-governing collective, but not a very well organized one, truth be told. When you live in an abandoned hammer mill (or an abandoned refrigerator, for that matter), there's little else to do besides wander around and try to keep yourself occupied between tours. We might go crazy for a spell and even (dare I say it?) rehearse a few numbers. Such madness has taken hold of us on more than one occasion.
I suppose you're wondering how it is that we manage to support ourselves. Well, I don't think I have to tell you that we are lousy salespeople … perhaps the worst ever. In a capitalist society such as ours, you have to charge for your music, no matter by what means it may be delivered. Of course, the availability of the post-industrial hulk known as the Cheney Hammer Mill makes it possible for us to basically give away our music and still have a roof over our heads, albeit a leaky one.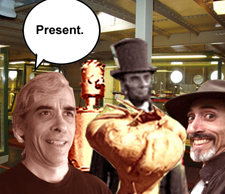 We have, in the past, posted our albums for purchase on digital distribution sites – the Orchard, CDBaby, etc. My feeling – and I should raise this at the meeting, already in progress – is that we should just post songs for free download and give people an opportunity to contribute towards the good of the Big Green cause through a Patreon site or something like that. It's basically a digital passing of the hat, which we've done as well (the Luddite version, in any case).
Our songs keep getting sillier. I think it may be something in the water. That's another topic we should raise if this meeting ever gets underway. How do we turn up the serious? Doesn't that have to happen before you're born? All these searing questions, and there's more where those came from. (Mind you, it's a little dark up there.)
Okay, well … meeting adjourned until, I don't know, 2047. Make it a Sunday in October. I'll dial in.