It's been quite a week for our low-rent gropen-fuhrer, and as of this writing it's only Wednesday. First we saw him re-tweet Euro-fascist videos, then excoriate the FBI in response to Flynn's indictment, followed by a full-throated endorsement of Alabama Senate Candidate, state Supreme Court Justice (twice removed), and mall stalker (many times removed) Roy Moore on Monday, opening of vast Western lands to oil and gas development on Tuesday, and U.S. recognition of Jerusalem as Israel's capital on Wednesday. Throw in little details like the travel ban being reinstated by the Supreme Court Tuesday, his allies in the Senate passing a draconian "tax" bill (larded with much else besides) the weekend before, and stepped up provocative war games on the Korean peninsula this week, and you've got … well … just what you voted for, America.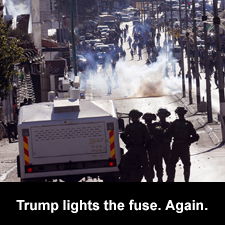 The Jerusalem announcement basically lights a fuse that's been rolled out and set for decades. As Trump pointed out, Congress has voted for this more than once, passing resolutions in support of the shift by large bipartisan margins. In terms of the fundamentals, it's a minor step, but as a symbolic gesture, it has the potential for disaster. I'm certain it is already being used as a recruiting tool for Al Qaeda, ISIS, Al-Shabab, and what have you. Another tremendous gift to jihadists the world over. Trump may as well take out full-page ads for them, plaster billboards all around the Muslim world, and flood Facebook with pop-ups – Al Baghdadi wants you!
There's a temptation to frame this clusterfuck as something uniquely Trump, but that doesn't even begin to hold water. Trump is truly a reflection of America's worst tendencies, a fun-house mirror for us to peer into with fascination and horror. But having a drunk at the wheel of the wrecking machine that is Imperial America is only marginally different than having a college professor in the driver's seat. Yes, Trump is worse than even a neoliberal Democratic administration – court appointments and judicial decisions alone confirm that much. But America as it is currently configured is designed to kill and destroy on a massive scale, regardless of who is running the show. Destruction is the default position, and like any large exploitative enterprise, this machine has its ways of perpetuating itself. Every family Trump (or Obama) shatters in Yemen or Syria or Iraq generates more hatred against us. Our bombs and policies like the Jerusalem decision are investments in future conflicts that will fuel the military machine long after we're gone.
It's not hopeless, people. We live in a democratic society. We can change how we do things, but we have to get started … like, now.
luv u,
jp