There's a lot to say about the Republican's craven plan to push through a massive tax plan in a matter of days. I needn't point out that the final bill is likely to be a cobbled together mess, one that we'll be struggling with for many years to come if it ever finds its way to Trump's signing hand. Nor do I need to repeat the obvious fact that this is a tremendous giveaway to the richest Americans, to corporations, and to the GOP's donor base, one that demonstrates the degree to which the Republicans' supposed concern over budget deficits is just another ploy.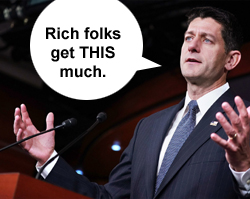 What I find most infuriating about this legislation is that it is being proffered at a time when its chief beneficiaries – the richest of the rich – are doing just fine, thank you very much, and corporate America is sailing from strength to strength. The last thing they need is more money in their pockets. This is also a time when our armed forces are deployed in conflicts all around the world. Trump just signed into law a $700 billion defense bill, subject to repeal of the sequester agreement. When we're spending this kind of money and putting people in harm's way, why the hell are we cutting taxes? What effing justification is there for that? It is beyond shameful, frankly.
Even worse, this is just part one of a two-step routine the Republicans have been rehearsing for a generation now. Step one: cut the hell out of rich people's taxes, and blow a huge hole in the federal budget. Step two: almost immediately afterward, feign panic over a ballooning deficit and use that as a rationale to cut core social programs, like Social Security, Medicare, Medicaid, and other extremely popular programs. They have tried this numerous times before, with only limited success. This time might be different, as they are more craven than in previous decades and control every lever of power. They really don't need any Democratic votes to push these cuts through.
The GOP has always hated Social Security and Medicare/Medicaid, largely because they are defined benefit, pay as you go institutions. To the current crop of crazies running Congress, insurance is now tantamount to Soviet-style top-down socialism. Don't think they won't try this: Paul Ryan has been working on setting this up for many years. We have to be ready to fight back, or you can kiss these vital public institutions goodbye.
That fight begins with killing this tax bill. Best get started.
luv u,
jp