Full disclosure: I'm a white person. No big surprise there. (Just listen to my music.) And while I don't consider myself a racist, I know that a traditional American racist world view is woven into my consciousness as a white person. I grew up around racist white people throughout my entire youth, spending a good portion of that in a virtually entirely white school system (in New York state). My third grade teacher said openly racist things in class; chastised me for taking exception to them. My grandfather said racist things, my dad occasionally said things that were borderline racist (as deeply opposed to racism as he was). That is the murky water in which I was steeped, as were so many other white people.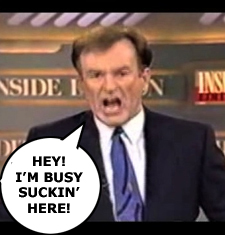 And like most honest white people of a certain age, I admit to the fact that sometimes, when there are only white people within earshot, other white people will sometimes say racist things. For most of us, there are a lot of opportunities for this to happen, since many of us inhabit a world made up mostly of people who share our skin color. This is a persistent source of disgust, particularly when the comments come from people who do not by any means consider themselves racist. (Every gaggle a Klan rally, right?)
It's this sort of insular communion that people like Rush Limbaugh and Bill O'Reilly have with their audiences. Their broadcasts are like enormous around-the-water-cooler kvetch sessions about dark people of every description. That's why they can get away with promoting a white resentment line that includes frequent alarms about "reparations" and the like. Limbaugh went so far as to sing the virtues of slave-owning white society, claiming that white people enslaved fewer people than any other race, and crowing about how we "fought a war" to end slavery, unlike other slave-owning people. This is, to my mind, the equivalent of holocaust denial, but barely a peep about it beyond MSNBC and other liberal outlets.
You can hear echoes of this in the comments of that first Zimmerman trial juror who spoke out publicly to Anderson Cooper. Not so much the presumption of innocence as the presumption of good intentions. We've all got a little bit of this at least, and it has got to go, or it will kill again.
luv u,
jp