There was some reporting by Patrick Cockburn this week about ISIS and the planned campaign against the group in Mosul, which is slated to begin in April. Cockburn says that the World Food Program is putting resources in place to handle a mass exodus of Sunni residents from the city, perhaps as many as a million. This is expected because the main fighting force that would retake the city will likely consist of Shia militia. Sunnis are terrified of these forces – much more so than they fear ISIS – hence they will take their chances on the highway rather than on the wrong end of the knife.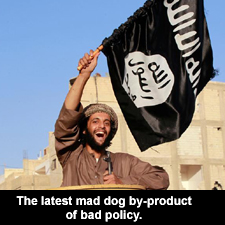 So, once again, we are on the verge of creating another catastrophe in Iraq, the predictable consequences of which will be a further radicalization of the Sunni community, just as our 2003 invasion gave rise to Al Qaeda in Iraq, the precursor of ISIS. Same story, over and over again, and we somehow expect a different ending. Our imperial foreign policy is an enemy manufacturing machine, as the past sixty years have amply demonstrated. Quite an efficient system; one generation is caught up with fighting the jihadists spawned by the one that preceded it.
We could start at any point since World War II. Our sponsored coup in Iran in 1953 ushered in the Shah who was replaced a generation later by the Islamic Republic of Iran, which we are constantly threatening with war. The CIA had some relationship with Saddam Hussein as early as the late 1950s, when he attempted to assassinate then-Iraqi leader Colonel Qasim, and later we bankrolled and supported his eight-year war against Iran. (Later, of course, the love affair soured.) Our support for jihadists in the Afghan war of the 1980s gave rise to the Taliban and Al Qaeda, which are now our principle enemies. And of course, ISIS is Al Qaeda in Iraq 2.0. The gestation period seems to be getting shorter and shorter.
If we renew this war and kill thousands and thousands more, who can we expect to be fighting five, ten, fifteen years from now?
luv u,
jp