Another one of those weeks. Seems like there have been a lot of them just lately. In any case, it was notable that the President spent part of the week up in northern Alaska, getting his picture taken in front of melting glaciers. This represents political jiu-jitsu of positively Clintonian proportions, as it was only last week that Obama's administration gave the nod to Gulf Oil to start drilling in the arctic – a region so remote that even the inadequate remediation services available in places like the Gulf of Mexico are unavailable. Gulf's business plan, I assume, relies on a lot of good luck (as well as a steadily warming climate). Their disaster response plan is probably the same boilerplate bogus document BP used.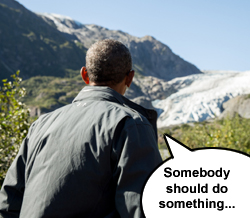 Right, so … Barry let Gulf oil start drilling in ocean recently freed up by the effects of burning hydrocarbons, but that's okay, because he renamed Mount McKinley and talked about how we're not moving fast enough on climate change. Yeah, no shit, Mr. President – there's an obvious solution to that, of course. Stop dragging your own damn feet. Obama's efforts to address the impending climate catastrophe are progressing so slowly that those glaciers he visited seem speedy in comparison. He should have named that mountain "Denial-ly".
I'm not sure what's more aggravating, a right-wing politician (name pretty much any one) who champions climate change skepticism or someone like the President, who obviously knows better but lacks the will (or perhaps the spine) to do what needs to be done – to propose solutions appropriate to the scale of the problem. This eight years may turn out to have been the last best hope for putting the worst effects of global climate change in check. My guess is that Obama knows this, but if so, how can he not at least try to take the necessary steps, not the usual scrum of half-measures?
Climate change will not be blown back by rhetoric. It doesn't yield to compromise solutions. We have to stop thinking in terms of short-term political expediency and realize that when it comes to survival on this planet, half-measures won't do.
luv u,
jp