I can't decide whether the Syrian conflict is becoming more like the Afghan war of the 1980s or the Lebanon civil war (1975-90). It certainly has elements of both. Great and regional power proxies. A U.S. ally that is also a conduit for extremists (Pakistan in the 1980s Afghan war; Turkey in today's Syria). Multiple armies running up against one another in a relatively small space (Lebanon when the Israelis, Syrians, and U.S. were all operating there at once). Rich Saudis bankrolling fanatical foreign fighters (Afghanistan). Now Syria has the misfortune of having drawn the interest of two great powers, one the global hegemon (us), the other its former and increasingly current rival (Russia).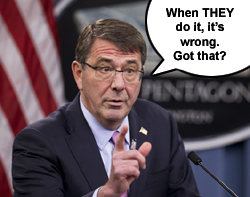 It is a bit maddening to see Defense Secretary Ash Carter denounce the Russians for being the gang that can't shoot straight (which they apparently are) when only days ago our forces in Afghanistan blew up a Medecins Sans Frontieres hospital – an accident, of course (we seem to have a lot of them). While we're railing against Putin, we might pause to remember that we have been in Afghanistan for fourteen years, and that the place is still ungovernable. We've been in Iraq for 12 years at some level or another, and large swaths of it are under the control of a group we profess to hate – ISIS or ISIL, nurtured in the government-free zone we carved out in the cradle of civilization, supported by Saudi and Turkey. (I guess the friends of our friends are somehow our enemies. And the enemies of our enemies … also our enemies. Have we no friends?)
When you invade countries without cause or a thought to the consequences, you shouldn't expect to make any friends. When you pursue policies that undermine the stability of an entire region, you shouldn't be surprised when the whole place starts caving in. I've said it before but it bears repeating – sometimes things are broken so badly that they cannot be put back together. As Americans, we can't get our heads around that concept. We always think there's something we can do. Basically, the one thing we can do right now is to stop actively making things worse. Once that's pursued, other solutions may present themselves.
Speakerstakes. Speaking of ungovernable, there will be no Speaker McCarthy and, hell, maybe no speaker anybody for a while. The bug-fuck-nuts conference in the House must be high-fiving one another over yet another victory. Word to the wise: when you put government haters in charge of government, bad things will happen.
luv u,
jp