Time to face facts: I've got newsitis. Can't take my mind off of the ongoing cycle of awful public policy stories. In homage to this obsession and temporary ADD, I will run through a few top of mind items and attempt to keep them brief.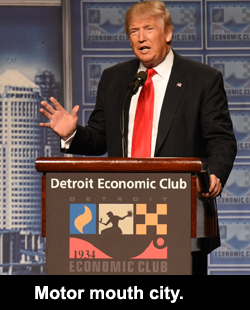 Nuclear summer. Here in New York State, our always forward-looking government recently decided to sink up to around $7 billion over the next dozen years to subsidize our aging nuclear power plants, particularly the Fitzpatrick plant up in Scriba, NY. Part of an effort to advance so-called "clean" energy, we will now be further subsidizing this moribund industry, underwriting the transfer of this 40-year-old plant to another massive electrical utility. Meanwhile, in my home county, they have canceled a major solar energy generation project. What's wrong with this picture? (Actually, what's right with it?)
His ass said it. Trump is making that pivot all right… pivoting right into where he was before. I think some of the pundits got a little excited when he delivered that sorry-sounding speech to the Detroit Economic Club last week – an overly long amalgam of wild, unfounded promises and tired old GOP favorites, like the three-tiered tax system and the 15% top rate for business. Pappy tax cut is back, folks! Then, of course, being a good cartoon neo-fascist, he piped up with this:
Hillary wants to abolish, essentially abolish, the Second Amendment. By the way, and if she gets to pick — if she gets to pick her judges, nothing you can do, folks. Although the Second Amendment people, maybe there is, I don't know. But I'll tell you what, that will be a horrible day, if — if — Hillary gets to put her judges in.
Being the bad comedian that he is – essentially, all set up and no punch line — it's not hard to see how he would get around to this. He's playing the crowd, of course, and many standup comedians riff on a certain topic, try to get a little edgy. Suggesting assassination is just where you would expect a comedian/politician to go.
Assholes vs. Fuckers. There was a fair amount of Clinton news this week as well. A lot of it was just email fodder about what amounts to the usual networking bullshit anyone who has worked in an office runs into almost constantly. Other stuff relating to the Clinton Foundation is more problematic, and I have little doubt that there would be plenty for the GOP to mine through four or eight years of Hillary. I tend to think concentrating on the Clinton's finances is shaky ground for Trump, seeing as his own "billionaire" finances are pretty much opaque, but we'll see.
As for me, I'm still voting for the assholes. Why? Because they're better than the fuckers, that's why.
luv u,
jp