The 100-day mark is fast approaching for the Trump administration, and this week they kicked it into high gear in an attempt to create the impression that they accomplished something over the last three months – namely, something that was on the President's list of promises he made over the course of his craven campaign last year. With this in mind, they tossed out a few desperate efforts towards meaningful legislation, one of which being a one-page tax break proposal announced by Mnuchin on Wednesday.
This is a clear return to the G.O.P. presidential playbook, in a Trump kind of way. Of course, it smells more like a scam, the sparsely written outline providing very little detail or guidance for what would likely be a contentious legislative drafting process. But the outlines are there, and what it means effectively is that old Pappy Tax Cut is back once again. We haven't seen Pappy since the days of Dubya Bush and his high-earner tax cut that blew a huge hole in the budget – one that we're still grappling with, even with the minor clawback Obama extracted from the Republicans.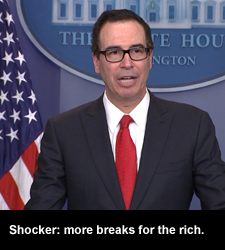 What's in it? Prepare to be amazed. Massive tax cuts for the wealthy and for corporations. Reducing the top corporate tax rate to 15% and eliminating the estate tax altogether. If anything resembling this vague framework were to come into effect, it would shower enormous dividends on the most well-heeled people in the United States and cost the U.S. treasury about 2 trillion dollars. Suddenly Republicans aren't worried about the deficit/debt anymore – astonishing! And why wouldn't they give a massive break to the only people in the country – the one percent – who did well throughout the financial crisis? No reason at all.
Trump allies in congress were touting a new compromise on the "American Health Care Act" between the right and the extreme right, but that's probably a non-starter. The act has been changed up to reflect more of the "Freedom Caucus" (i.e. a bunch of white dudes) agenda, including allowing states to make core benefits optional, letting health insurance providers charge a lot more to people with pre-existing conditions, like … I don't know, pretty much anything that happens to you.
Then there's impending war with Korea. Don't even get me started on that. There's such bad thinking on that issue from both major parties that it's hard to know where to turn next.
luv u,
jp