It's hard to overstate how disturbing the news has become over the last couple of weeks. Gradually some elements of the Republican political establishment are beginning to acknowledge the obvious fact that Donald Trump is fundamentally unfit for the office of the Presidency. Astonishing. Why someone like Senator Corker wouldn't have realized this more than a year ago, when he had the opportunity to help prevent this disaster, defies belief. Like his colleagues, it obviously wasn't as important to him as having a Republican president – any Republican president – who would sign legislation and implement the extreme right policies his party has long advocated. They did everything in their power to put an unstable man in the most powerful office on earth and place the nation in jeopardy just to gain marginal political advantage.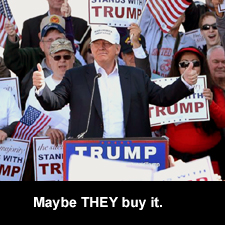 Now Corker and his colleagues can feign surprise when the bonobo they elected throws feces at them from his perch in the White House. And because the Tennessee Senator has announced his retirement, he can channel his colleagues' unease when Trump (a) demonstrates he knows nothing about America's nuclear strategy or the history of that strategy, (b) breezily demands we return to an arsenal of 32,000 warheads, and (c) makes a habit of cryptically threatening to start World War III on the Korean peninsula. The man is a terrorist, plain and simple – hinting that there's some kind of "storm" coming, teasing some violent response or initiative, then dropping a smirking "you'll see," like a petulant four-year-old. Fit for the presidency? The man isn't even qualified to be dog catcher.
I wish this were the kind of joke that so many people think it is (including many of Trump's core supporters, who revel in the discomfort of liberals and the like), but it's not. Trump is alluding to some kind of military action in the near future, probably regarding North Korea. Any action commenced by the United States stands the very real risk of provoking a counterattack on Seoul, South Korea – a city of 20 million people and no small number of Americans – plus the involvement of China and perhaps Russia (China's leaders have said that they would respond to an unprovoked attack on North Korea by the U.S.) That is the World War III scenario that Corker is alluding to. Even short of that, we could be looking at loss of life in the hundreds of thousands within a very short period of time – far beyond anything we've seen in decades. (Congo may be an exception, though that conflict took place over many years and in some respects is still ongoing.)
In my humble opinion, it's 25th Amendment time. Will anyone in the senior leadership of this administration put the country before his or her career? Remains to be seen.
luv u,
jp