If you had your fill of thankfulness over the past week, this might be a good time to look in on some stuff that's happening at the national level that seldom gets reported on. So much media attention is focused on the current administration's relationship with the Russian government,  various sexual harassment revelations, and Trump's latest asinine tweets (all important topics, to be sure), some of the more impactful stuff the administration and its Congressional allies have been doing is slipping by unnoticed. Time to fight back … and give thanks for the Internets.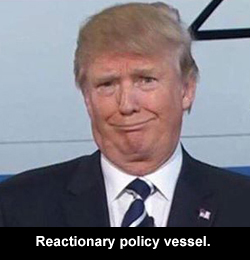 Court-Packing. As Trump appoints circuit court judges at an unprecedented pace, his friends and supporters in the Senate have greased the skids obligingly, disabling the filibuster and individual Senators' right to put a hold on nominations – methods the Republicans used liberally during the Obama administration to prevent his nominees from being seated. Now the reactionary Federalist Society has proposed a court-packing scheme that would triple the number of appellate court judges, enabling Trump to appoint an unassailable majority of ultra-conservative jurists to lifetime appointments on the bench.
Census and Sensibility. Trump looks ready to nominate a right-wing academic with no administrative or data-analytical experience to the number 2 post in the Census Bureau, which is the main executive position in that agency. Now, there is no permanent director of that agency, and the number 2 spot does not require Senate confirmation, so this is a stealth appointment of an ideologue who argues that competitive elections are not good for Democracy(!) and who played a key role in the GOP's partisan redistricting last time around. That's the guy who will oversee collecting the demographic data that informs redistricting. Holy shit.
Media Matters. Meanwhile, over at the FCC, Trump appointed chair Ajit Pai has been working overtime. You've probably heard about his attack on net neutrality, and there's no question that that story deserves more attention, but less visible has been Pai's efforts to break down the already weak system of rules regarding media ownership. In a 3-2 party line vote, the FCC recently voted to allow cross ownership of a television station and a newspaper in a single market. This, along with the decision to again discount UHF channels with respect to the statutory national audience share cap of 39% spells greater media consolidation and expansion of right-wing companies like Sinclair Broadcasting.
These and other issues, though not leading the headlines, have the potential to affect our daily lives for decades to come. They constitute the core of the GOP's assault on public institutions as a constraint on concentrated private power. We ignore them at our own peril.
luv u,
jp