This just in: President Trump is a racist. Who could have seen THAT coming? The administration's childish denials of the President's "shithole countries" comments, the persistent refrain of "tough language" and swearing all around – all of that belies the reported fact that Trump was bragging about his racist tirade to some of his right-wing allies, a few of which let the story slip. Frankly, I think the administration far prefers the focus on Trump's verbal diarrhea – it keeps the press from focusing on the underlying issues, which make less compelling television. (It also reinforces Trump's message to his base that he thinks like they do about dark people, foreigners, etc.)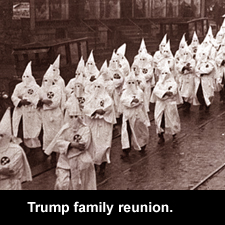 There is also the fact that the President doesn't understand policy, isn't interested in it, and is incapable of delving any deeper than the surface of any political issue. He is kind of a blank slate, though he does obviously have deep-rooted visceral prejudices. Third-rate thinkers (and ninth-rate speechwriters) like Stephen Miller can scrawl their alt-right graffiti on the guy and he will repeat whatever they tell him. Retrograde bigots like General Kelly and Tom Cotton guide Trump like he's their senile uncle. So the President's feint towards compromise last Tuesday was transformed into the spectacle of last Thursday, when Trump denigrated an entire continent as well as the ex-colony that was a primary source of France's wealth.
The implicit racism of the administration's argument on immigration is far more stunning than his gutter rhetoric. They want less people from places like Haiti and Africa (!) and more people from places like Norway; they see this as an argument for a more "merit-based" system, because they can't conceive of the possibility that people from Haiti or African countries are (a) educated, (b) highly skilled, or (c) industrious. Because they are, well, black, the administration thinks of them as a hoard of hut-dwelling wash-outs in search of free services. That is basically a textbook definition of racism, even without the S-bomb. They have a 1940s cartoon-level conception of these foreign lands and the people that inhabit them, and they use that to add fuel to their fear-mongering.
Let's face it: immigrants, particularly darker ones, are an easy political target; always have been. I hear people much smarter than Trump employing the same tactics, pointing to crimes by foreign nationals and generalizing select incidents to tar entire populations, an art form mastered by the Nazi propagandists. This kind of hate is our enemy, and we need to fight it on the beaches, in the streets, in the alleys, and in the doorways. We must never surrender to it.
luv u,
jp