Weeks like this give the lie to any suggestion that Donald Trump does not reflect the true character of the Republican party. If there has ever been a more nauseating display of fawning over an American president, I have yet to see it. The celebration over the passage of the "Tax Cuts and Jobs Act" was reminiscent of those bizarre, banana-republic type cabinet meetings where officials take turns falling all over themselves to praise the Dear Leader. This time, it was congressional leaders (many of whom have momentarily taken issue with the president) crowing about what a great legislative partner he is, and Mike Pence, who mostly delivered the national security strategy speech he memorized from earlier in the week. I could see my own Trumpite Representative, Claudia Tenney, in the front row, applauding, gawking at the president in apparent awe, taking snapshots of his ample ass with her phone like some teen fan at a concert.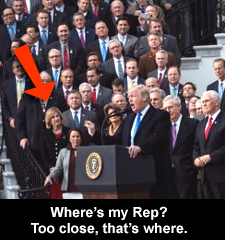 The conventional wisdom on talk television, of course, has it that Trump is his own invention; that he sprang fully formed from a crack in the Earth's crust sometime in 2015; that he was never a conservative but, rather, a "lifelong Democrat"; that his views represent only himself, not the broader party. Total bullshit. Trump is the end-stage product of a Republican party that his been careening to the right for more than 30 years. Sure, he has been in the public eye for that long and longer, as a big-mouth heir to a real estate developer, shameless self-promoter, casino magnate, serial financial failure, and reality show star. America's right-wing media, its nutcase reactionary movements, and its corporatist Republican party made the very space that he moved into in 2015 as a presidential candidate. He makes perfect sense from that perspective, and almost seems inevitable.
The charge about being a lifelong Democrat, leveled by the likes of Joe Scarborough and others, is perhaps the most laughable. Trump has no ideology other than himself. He was pro-Democrat, mildly, as a real estate developer in New York and New Jersey because the prominent politicians in those states came from the Democratic party. It was a completely transactional relationship; when he began to have national ambitions, he moved away from that and towards his natural place – namely, the core money party, and the one most favored by the KKK (of which his father was once a proud member).
No, the true picture of Trump's place in the Republican party was illustrated by that moment on Dec. 20, when he was being cheered enthusiastically by the lot of them. Remember in November.
luv u,
jp