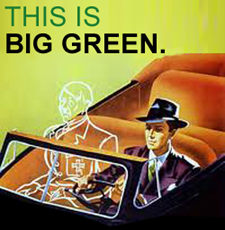 Leave me alone, Charles. Can't you see I'm trying to sleep? It's obvious, for chrissake … I just called you Charles, and I don't even know anyone by that name. So I must be effing sleeping, right? Charles?
Oh, hi. Fell asleep in my cozy broom closet. We are still in our highly restricted corners of the abandoned Cheney Hammer Mill as local venture capitalists eye the joint from stem to stern to see if it has any potential to make them serious bank. (I think there are more opportunities in the stem than in the stern, but I'll let them find that out for themselves.) It's like they have glass heads; I can see them picturing some knitting basket of a store, maybe a Hickory Farms … if such a thing still exists. (I remember stealing samples there as a kid. Strange, because I wasn't even hungry … still, it was a good find.)
So, yeah … they'll probably sweep us out of here like yesterday's floor scum in a few months. Unless, that is, we come up with some cash … or Mitch Macaphee comes up with some kind of diabolical invention that will hold them at bay. Maybe a time-warp generator. Maybe a force field. (Even a little, teensy-weensy force field would help.) Maybe a great invisible ruler we can use to whack the invisible hand of the marketplace. Just throwing out a few ideas here. Are you listening, Mitch? Mitch??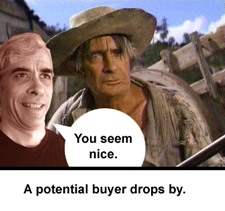 Oh, damn … that's right. Mitch is off to Sao Paolo to attend the bi-annual convention of the International Society for the Purveyors of Mad Science (or ISPMS). I believe they're giving him some sort of badge this year. (Not sure what it's for, but it suspiciously glows in the dark.) In any case, we can't rely on Mitch to keep the capitalist wolf pack at bay here at our besieged hammer mill squat house. We could have Marvin (my personal robot assistant) go out there and try to reason with the developers, but that would just make them laugh and point. We could coax Anti-Lincoln (perhaps with the promise of bourbon) to give one of his famous presidential addresses from the mill's parapet, but again … pointing and laughing would ensue. (He's not good.)
Thankfully, it's a weekend, and I have the option of staying in my broom closet, strumming my unplugged guitar, while the realtor does walk-throughs. "What's that sound?" the punters will ask, and the realtor will say, "Just the wind in the willows."