Utica Peregrine Falcon Update for April 13, 2018 –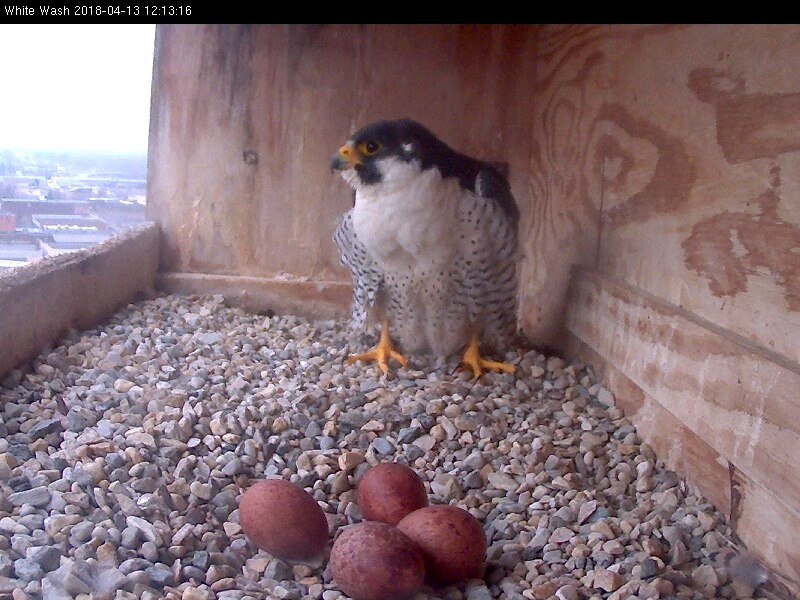 There was some rain overnight and even a thunderstorm – although the storm actually missed the falcons' downtown canyon. Temperatures were in the forties during the night and barely budged through the morning. In the late afternoon, the temperature peaked in the low fifties. Astrid stayed out pretty late again last evening and didn't relieve Ares until just before 8 PM. He retaliated though and didn't relieve her on the eggs this morning until right before 6 AM which, believe it or not, is pretty late for these two. He was seen on the State Building about 15 minutes before coming to the nest. Interestingly, when Astrid left she landed on the exact same high ledge that he had been on only moments before. At 8:20, Astrid was on the north face of the State Building and appeared to be feeding. She was seen on the building's west face a little while before that, so perhaps she had taken food out of Ares' pantry. The pair switched out at the nest box at 10:02, and then Astrid was back on the eggs. She had a partially full crop. Ares went over and perched on the State Building's north face. A little while later he was on the west face, and then back on the north. Obviously he was hunting. At 12:13, the pair switched at the nest again and then Ares took over on the eggs. We didn't see where Astrid was for a little while and then she showed up on the State Building. Just before 1 o'clock, Ares was fussing around on the nest. He moved some stones around and then he seemed to have an issue adjusting the eggs. As soon as he tucked one beneath him, another would push out on the other side. Fortunately, after a few minutes he got that all under control.
Astrid came back to the box at 3:15, and they pair did yet another quick switch on the eggs. Ares went over to the State Building and perched on a ledge that was only two windows down from where Astrid had just been. By 4:05, Ares had flown and was off camera for a while. At 5:10, Deb located him on the east face of the State Building. Forty minutes later, Astrid was calling for him to relieve her on the eggs, but he was obviously in no hurry to comply. We weren't sure if he was even in earshot at that time. She seemed OK to settle back on the eggs and wait for him to show up. As eight o'clock neared and dusk was upon the canyon it seemed unlikely he was going to show up, and by then she was resigned to stay anyhow. Perhaps Ares went on a late hunting trip. We shall see what time he shows up tomorrow morning.