Utica Peregrine Falcon Update for April 5, 2018
It was quite windy and cold today with temperatures remaining in the low to mid-thirties. Astrid came to the nest at just before six in the evening on Wednesday night. It was the first night since the commencement of full incubation and she was taking it seriously. She stayed tight to the eggs without interruption until Ares came to relieve her at 4:35 AM. He had no food for her at that time and she did seem to be hungry. We believe she was checking Ares' pantry on the north side of the State Building. We couldn't see her doing this, but only surmised it was happening based on the chirp calls Ares gave as he monitored her movements. He's very attuned to her every move. Regarding Ares' pantry, it's likely all the food stored on the building's ledges was blown down by Wednesday's high winds. That was unfortunate. Astrid returned to the box after only 15 minutes and when she hopped in she expected Ares to switch right away. He really balked at leaving, but she had her way in the end. We don't know where he went after that, but ten minutes later we heard some of Ares' long calls. He was calling from some distance away. Maybe he caught something and was signaling his imminent return. At 6:05, Astrid got herself up off the eggs and called for Ares to relieve her. She left, but within a minute was back and on the eggs. At 6:27, Astrid started calling from the box. She was still hungry and wanted Ares to bring breakfast. Five minutes later, he brought a Woodcock to the cross perch. She came towards him to take it as he shifted it between his talons and bill and positioned it for the handoff. She stretched out to grab it and it fell between the cross-perch and the lip of the box. In a nanosecond both Peregrines dove straight down to intercept it. It's always disconcerting to think of the falcons diving down toward the street at full tilt. We didn't see precisely what happened, but a minute later Ares was climbing onto the eggs and Astrid was feeding on Woodcock over at the Hotel. Obviously they recovered the falling prey, but did they get it before or after it hit the ground?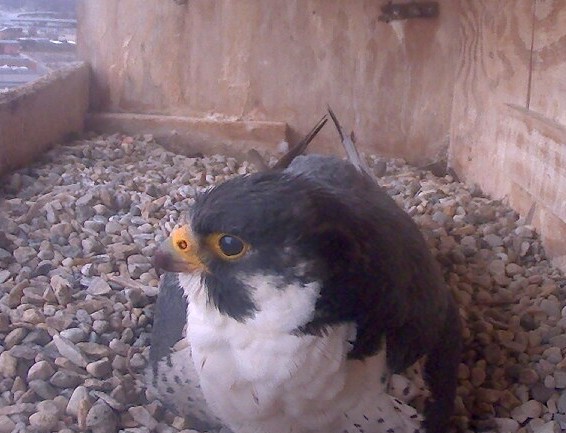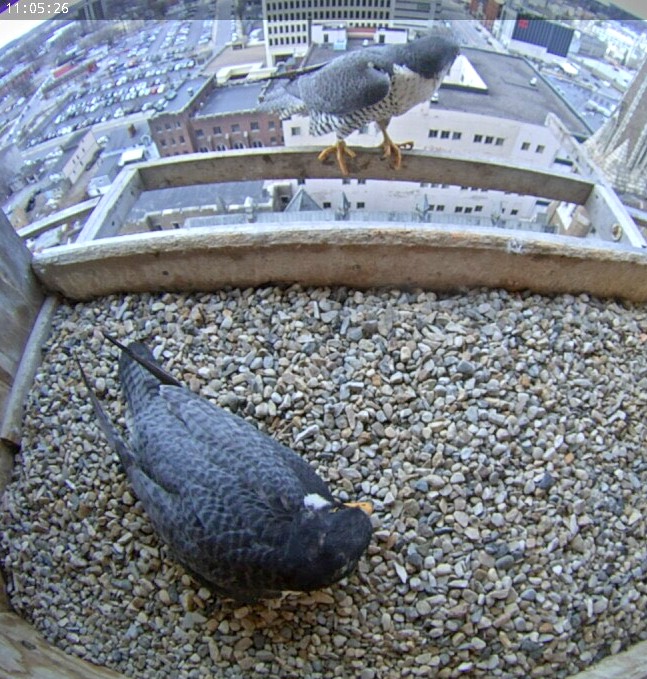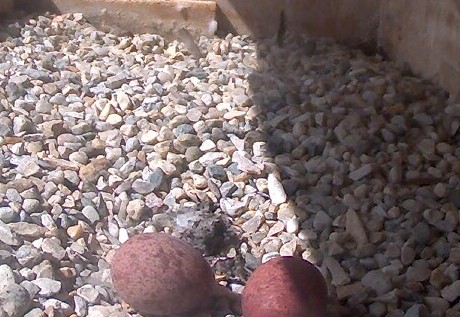 Ares left the eggs alone at 6:46, but then came back at 6:54 to resume incubating. On a chilly day like this, if there is a more than ten minute gap in incubation, it could be detrimental to the development of the embryos inside the eggs. A few minutes after that, Astrid came to the box and tried to take over incubation, but Ares didn't want to go and this time she yielded to his wish. She's nicer to him when she's not hungry. At around 8:40, the pair did their switch and Astrid took over on the eggs. At 9:26, Ares sailed by the box with prey. That peaked his mate's interest. She climbed off the eggs and scrambled out on to the cross-perch. He came back and landed on the long perch with the food. This time there was no transfer mishap, she grabbed the food and flew off on the high winds. She took the meal over to the Hotel and to the same ledge corner where she ate the Woodcock earlier in the morning. Ares cleaned his bill on the perch, flew off, but then returned only a minute later and settled on the eggs. At 11:10, Astrid came to the box, but there was no switch. Instead, she flew around the canyon a few times. An hour later, Ares got off the eggs and launched into the canyon. Astrid came into the box less than a minute later. At 12:26, Astrid began calling loudly. Ares had left his perch on the State Building and she was communicating via long distance. Soon after, he went back to the State Building. She left the box twenty minutes later, but came right back. We think she wanted him to take a shift in the box, but he kept flying off his high perch on the State Building and returning. He was taking advantage of the strong winds to get some free flying in. Every time he launched into the air, Astrid reacted with chirping calls.  At 1:46, Astrid left the box and Ares came in almost immediately and covered the eggs. He remained until 2:30, at which point he was out of camera range. The eggs were uncovered for ten minutes – that's how long it took Astrid to come into the box and settle down to incubating. It was a chilly afternoon with a strong cold wind, but the sun was hitting interior of the box, so the eggs probably weren't in of jeopardy becoming too cold. She was only on the eggs for two minutes when Ares arrived with prey. After playing tug-o-war with the food, she snatched it from him and then sailed to the State Building – almost landed, but then opted to go to the Hotel instead, and that's where she had her meal.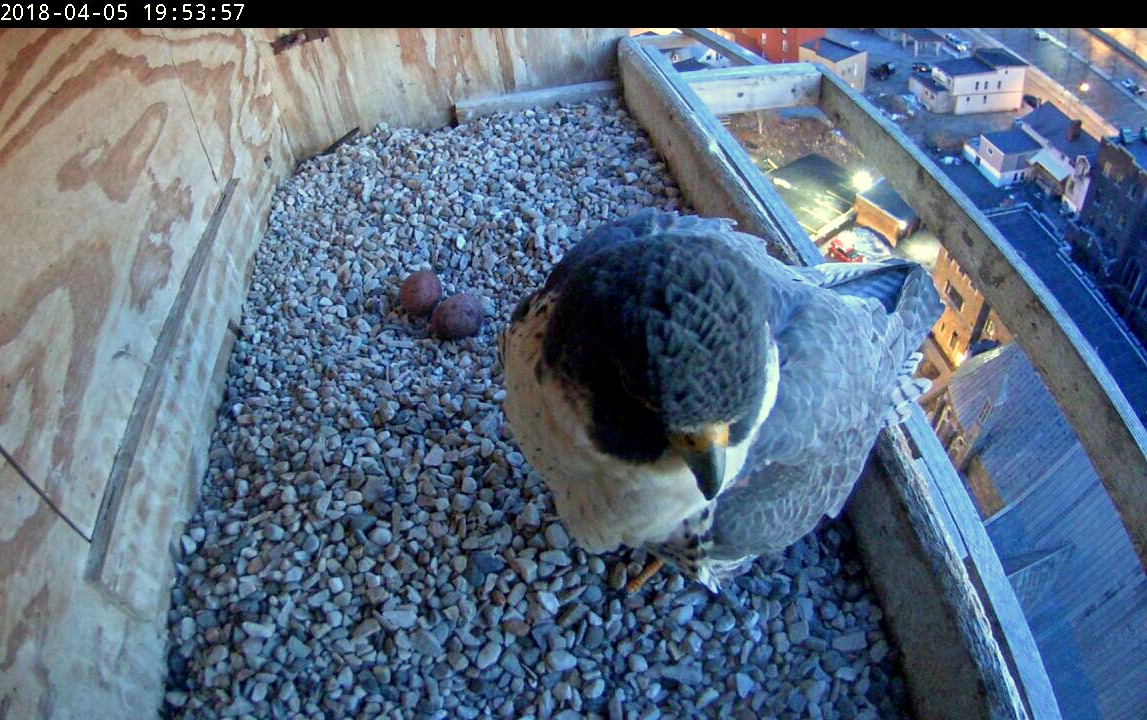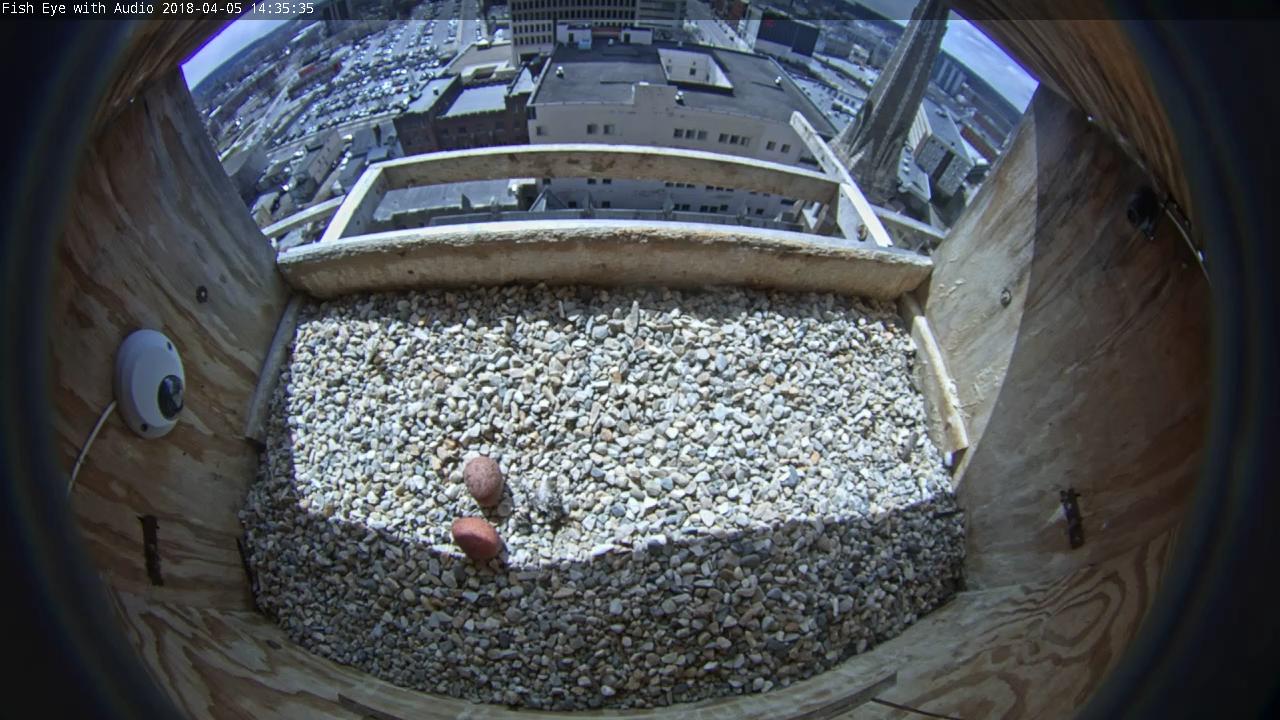 Ares remained on the eggs until 4:25. Astrid came in almost immediately after he left. It seemed like their incubation switches were getting faster and smoother. They switched again at 5:03, and Astrid did some impressive soaring on the wind. Soon he was up too and flying with her. They were off the eggs for a total of 12 minutes this time. That seemed risky. Still, the eggs were in the sun and they were probably getting some residual heat from the surrounding stone flooring in the box, so the interruption in incubation was probably not a big deal. Ares returned to the box, but soon was up again. This time he flew over to the State Building and mated with Astrid. This was the only mating we knew about that day. At 6:51, Ares came off the eggs again. He went over to the State Building where Ares was perched near her. Soon Astrid was up and flying and seemed to be in an agitated mood. Something was up; perhaps an intruder was somewhere around (somewhere we couldn't see with our cameras). Astrid and Ares were in and out of camera view – mostly out. Astrid finally settled down in the box, but it didn't last long; soon she was dashing around like a kid with a new bike. Ares finally came back to the nest but didn't get on top of the eggs right away. Then came the most serious incubation infractions of the day. Ares stopped incubating at 5:51, and didn't resume for 25 minutes! Why? Was it an intruder? Astrid was sure acting like something was amiss. A similar episode occurred at 7:38, when, once again, Ares came off the nest and Astrid didn't fly in to take over. The eggs were uncovered for a total of 23 Minutes that time. Whatever was causing these birds to neglect their eggs was potentially throwing a monkey wrench into their breeding hopes. Was there was enough residual warmth from the stones in the nest to keep the eggs alive and developing? If not, there's not a lot we can do about it. At just before eight o'clock, Astrid sat back down on the eggs. Ares had probably already gone to his night perch. We expect Astrid to lay the third egg of her clutch sometime around midday on Friday.