Utica Peregrine Falcon Update for April 12, 2018 –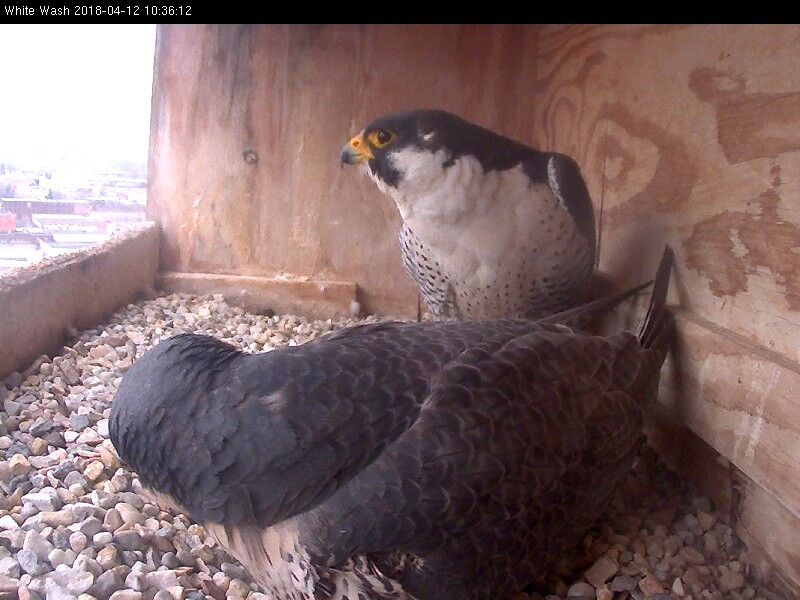 It was chilly overnight with a very dense fog developing by morning, Low lying areas including the falcons' downtown canyon were. Temperatures were around the freezing point in the very early morning, but rose quickly into the forties. Clouds and light rain came in by early afternoon. Astrid had relieved Ares at the box at 7:50, Wednesday evening. She remained on the eggs all night long and even a bit later in the morning than usual. Ares came out of the fog to relieve Astrid at 6:00. She then disappeared into the opaque cloud that enveloped the canyon. The fog was so thick we couldn't even see the State Office Building with our cameras, let alone determine if Astrid was perched on it.  At 7:22, the fog lifted just enough to allow us to see Astrid on the State Building. At 8:43, Astrid came back to the box and landed on the cross-perch. It looked to us like she was asking to mate, but she was only looking for a quick switch. He got up and left without complaint and she took over on the nest. At 9:10, Ares was spotted on the Hotel, but he wasn't there very long. After that he spent some time on the west face of the State Building.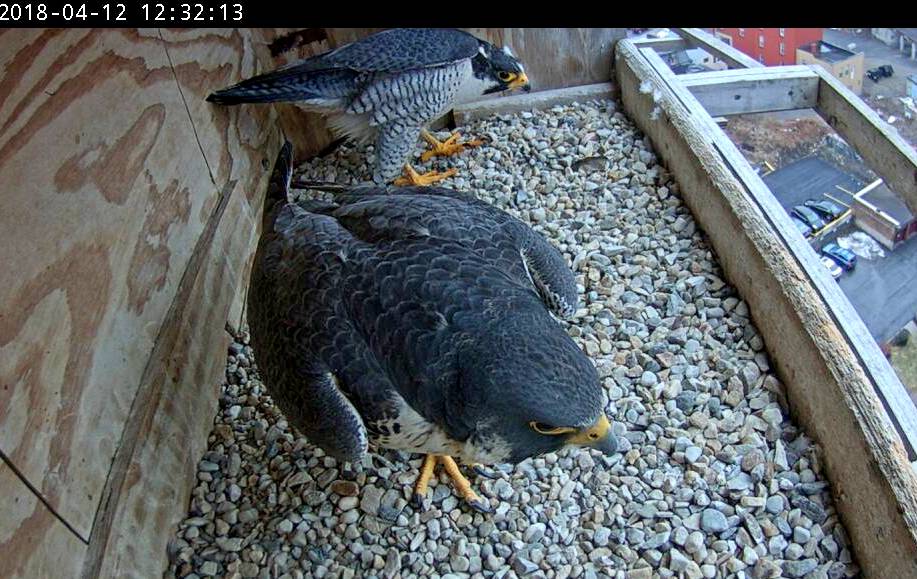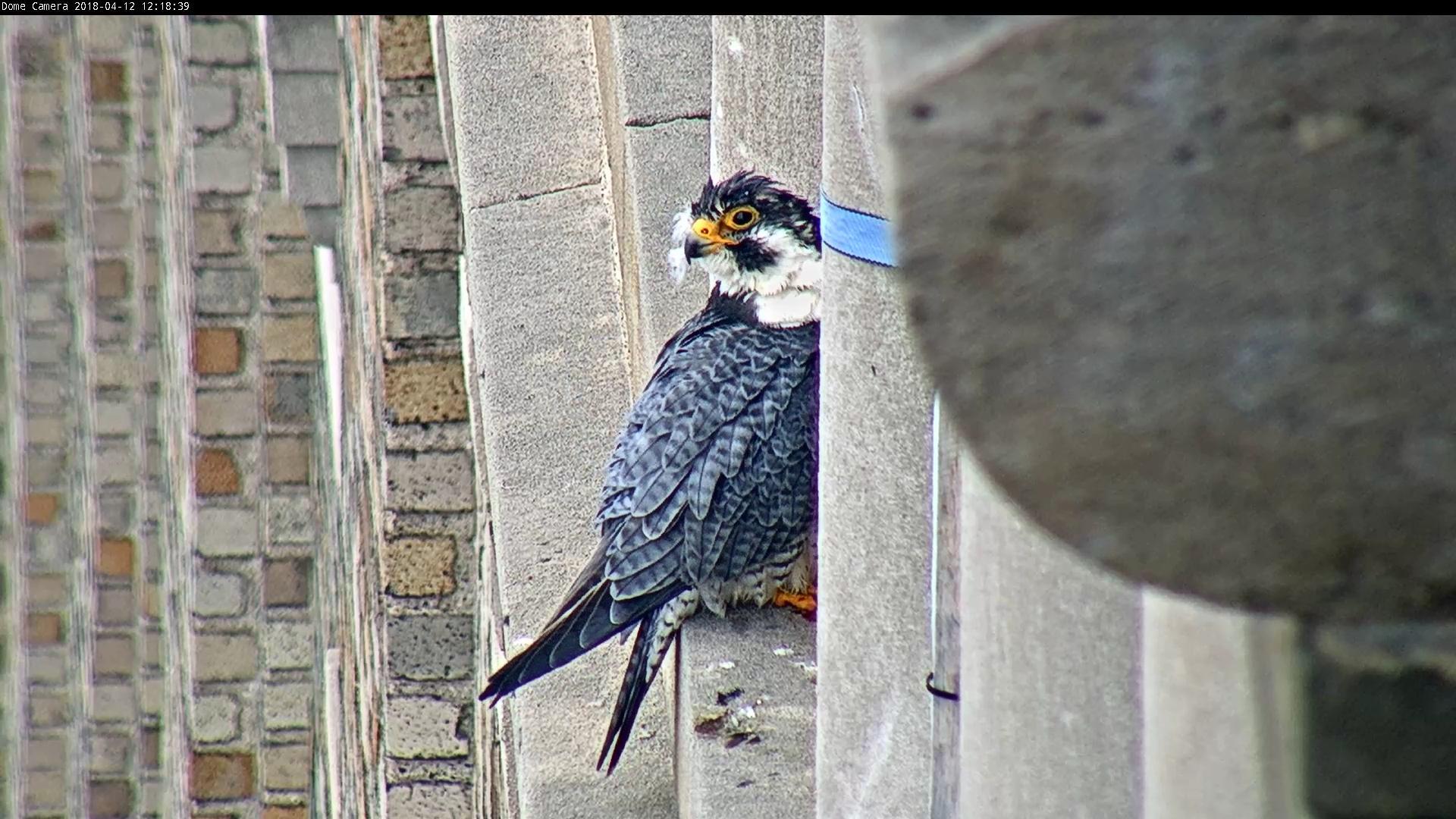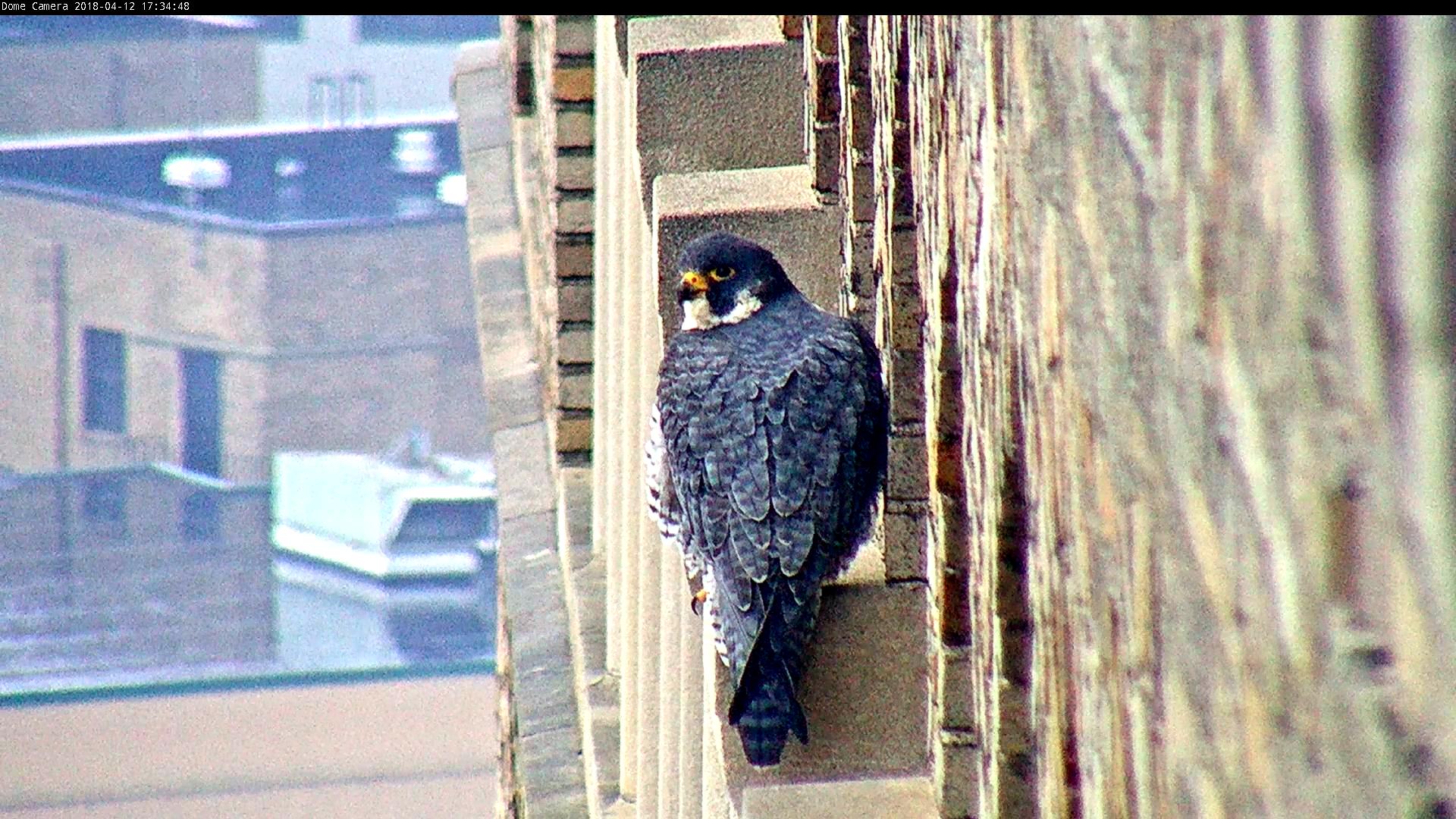 Ares came to relieve Astrid at the nest at 10:36, but she wouldn't go. He even used Astrid's patented technique of looming over her and then stepping on her tail, but she would not budge. We thought that she may have been holding out for food. At 10:55, Ares was seen on the State Building. It looked like he was prepping a meal for her, but then instead of taking it to the box, he just flew off with it. Later he was back on the west side of the State Building. That's usually were he stores food, so he may have tucked it into one of his cubbyholes. At 12:14, Astrid let out a squawk. We didn't know what that was about at the time.  It turned out that Ares had buzzed by the box. Perhaps he had planned to stop and do a changeover, but her call surprised him. He landed on a window ledge just west of the box. He looked pretty wet. It was raining at that time. He preened for a while and then at 12:30, he began giving soe subtle long calls. Astrid answered with "chirrup" calls and squeaks. He became animated, hopped over to the box and requested his turn on the eggs. She didn't want to leave. He came into the box and beaked with her for a few moments, but she still didn't want to go. Finally he squeezed between her and the back wall of the box and kind of pried her off the eggs. At that point she did leave and he had his turn at incubation. After Astrid left she flew around the west side of the State Building and appeared to be checking to see what was in Ares' pantry. She probably didn't find anything she liked, since only a few minutes later she was perched on the north face of the building and apparently not feeding. About fifteen minutes later, she went back to the perch on the west face.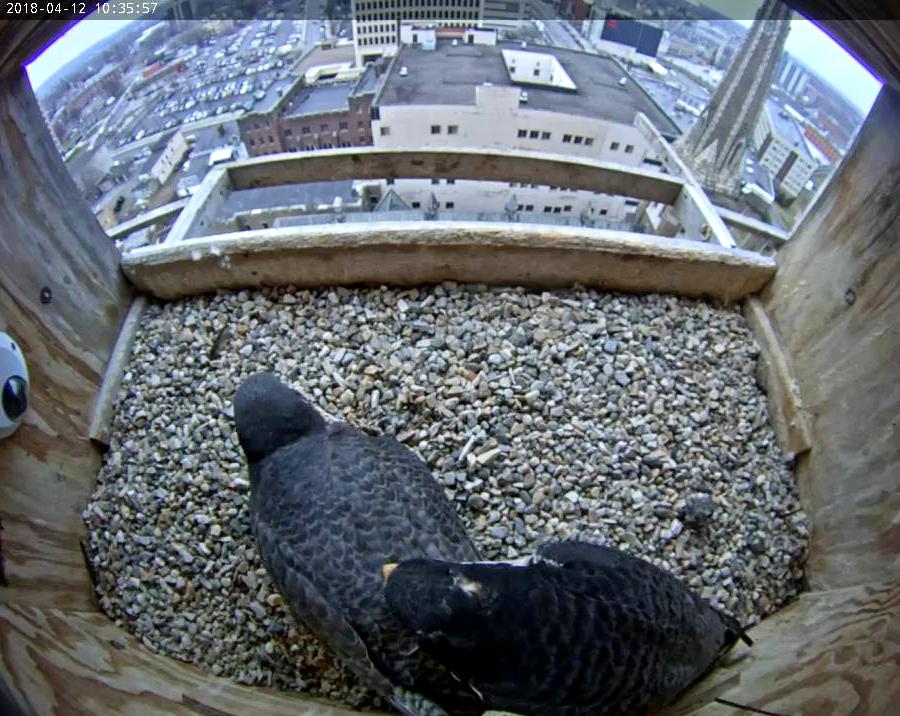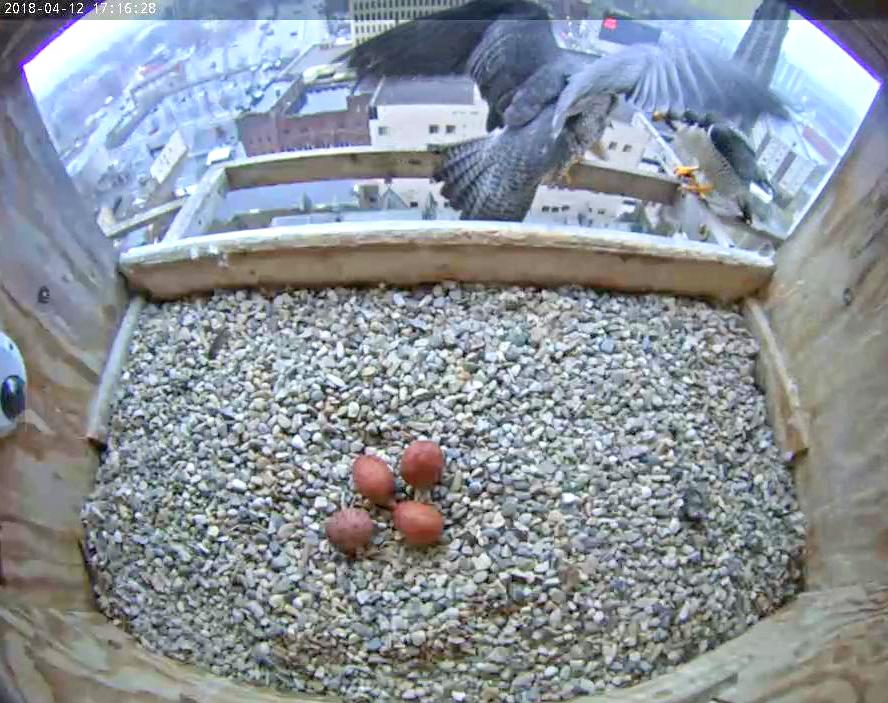 At 2:35, Astrid came to the box, but she only did a chick check in with Ares and then left again. Almost an hour later, at 3:22, they switched. Ares was again, ready to leave. At 5:16, Ares arrived at the box with a Woodcock. Astrid came right out to grab it. She then appeared to fly west with it, but our cameras couldn't find where she went to feed. Fifteen minutes later she was on the State Building and she wasn't feeding. She couldn't have eaten much of the Woodcock. Not that we needed more evidence that Astrid is not nuts about Woodcock flesh. In fact Woodcock qualifies as one of her three least favorite prey items. The others are cuckoos and bats. She was next seen on top of a pillar located west of the nest box. At 6:15 PM, she left and was out of camera view agian. She didn't come back to the box until dusk at 7:54. By that time Ares had been watching for her to return for about fifteen minutes and he was ready to switch. She quickly settled on the eggs and appeared set for the night.